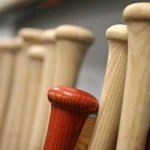 Program Overview: TIBC is a camp to serve your community with a highly professional staff. The staff was carefully selected for their abilities to relate to youngsters and for their vast experience and knowledge in various phases of the game. The staff will provide your youngsters with detailed instruction in every phase of baseball: hitting, base running, catching skills, outfield play, infield play, bunting, proper throwing, and game strategies.
The primary objective of our staff is to provide the ballplayers with the baseball knowledge and fundamentals which will improve and developer their present baseball abilities and skills. In addition, the staff will also stress the value of hard work and emphasize the importance of sportsmanship, fair play, teamwork, and discipline.
The staff strongly believes that your youngsters will receive the maximum benefits from our total instructional program.
About the Director: Lee Saverio is a volunteer assistant coach at Villanova University, where he works with the Wildcats catchers after working previously with the Villanova hitters. He is a familiar name in Philadelphia baseball circles and is an experienced coach at many levels of the game.
Saverio was previously the head coach at La Salle (2004-07) and an interim head coach at Saint Joseph's (2008) in addition to spending 13 years as head coach at Cheltenham High School. He has also worked in professional baseball as a scout for the New York Mets, and is the owner and camp director at Total Instructional Baseball Camp. His most recent coaching stop prior to Villanova was at Lehigh, where he was the hitting coach for three years from 2013-15. Read more –>
2018 Information:
Ages: 7-16
Date and Time: TBD
Location: Roslyn Park
Cost: TBD
Online Registration: To register your child/children, through Blue Sombrero, you will need to create a user account, log-in, then follow the steps to choose the appropriate team(s) and submit payment. Registration opens in 2018.
For More Information: Contact Lee Saverio.
Total Instructional Baseball Camp is a separate entity from Roslyn Boys & Girls Club. Roslyn Boys & Girls Club is not responsible for the Total Instructional Baseball Camp program.